The

Roller Organ Cobography


Click cobs.rollerorgans.com
For everything you wanted to know about Rollers (Cobs)

The Instrument
Instruments, Mechanical Detail, etc.

The History
History, Advertising, Patent Documents, etc.


Get the Book!
Roller Organs--The Autophone Company's 'Ingenious Mechanism'
Buy/Sell/Trade Page
Buy/Sell/Trade Page for ALL Mechanical Music, Free Listings!

Links and Miscellaneous
Contact Info, Repair/Restoration, Recommended Links, etc.


AugBlog
My own personal blog, completely unrelated to Roller Organs



Interested in Organettes? Help catalog their music!


organettes.com
Update:
On Saturday, May 7th, 2011, Todd Russell Augsburger passed away from complications due to ALS. Todd's obituary is found here.
Todd Augsburger's
Roller Organ Website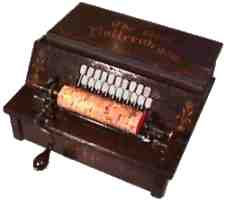 Welcome to the wonderful world of Roller Organs!